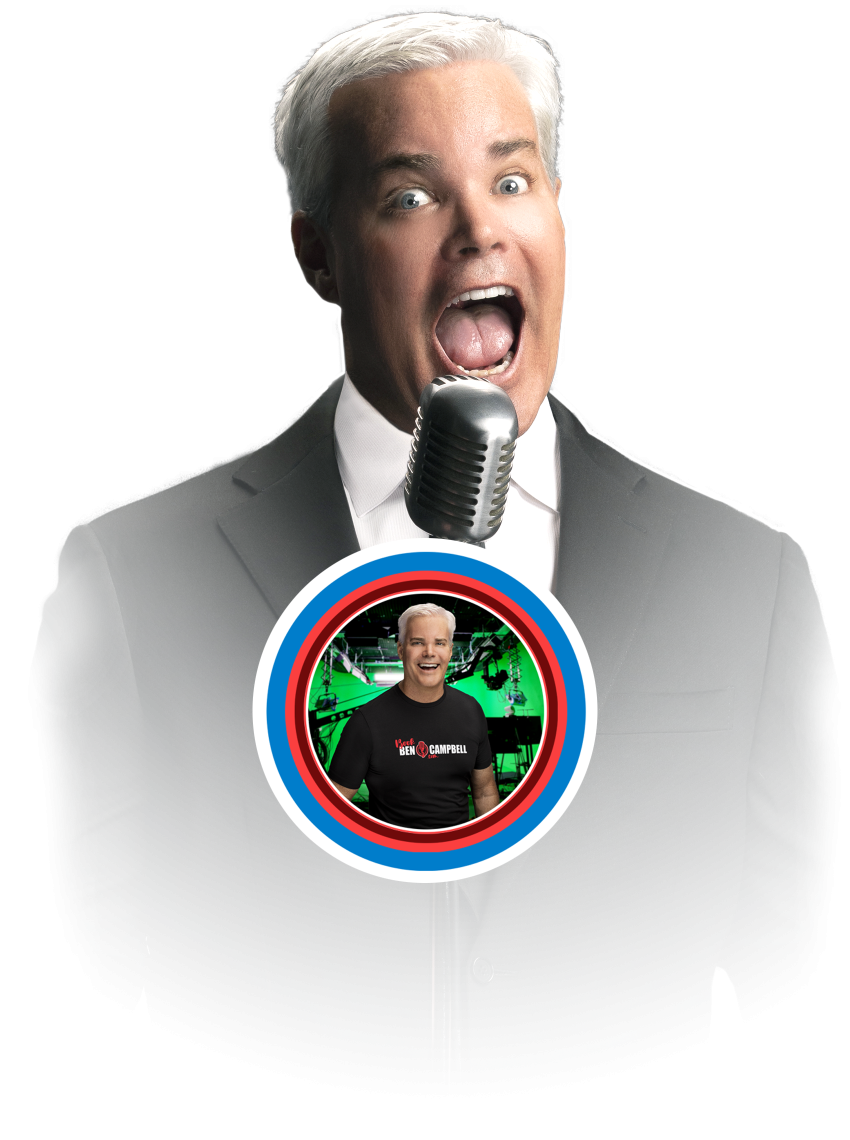 Meet Ben Campbell
Meet Ben Campbell
Immerse yourself in the world of exceptional entertainment with Ben Campbell, a seasoned event emcee, celebrated celebrity impressionist, and dynamic comedic speaker. With over three decades of experience, Ben seamlessly combines his unmatched talents to elevate every occasion he graces. From captivating stage presence and seamless transitions to astounding celebrity impressions and vocal versatility, Ben's unique blend of professionalism, humor, and genuine connection ensures that your event becomes an unforgettable experience. Book Ben Campbell as your guide to unlock the full potential of your event, leaving your audience with cherished memories that will last a lifetime.
Ben Campbell's Biography
Unleash Unforgettable Moments with an Engaging Event Emcee, Entertaining Celebrity Impressionist, and Elevating Comedic Speaker
With over 30 years of experience as an award-winning major market radio show host, acclaimed voice artist, and live event emcee, Ben Campbell seamlessly blends his exceptional talent, unwavering professionalism, and comedic genius to elevate every occasion he graces.
Captivating Presence and Professionalism: Elevating Every Occasion
Experience the captivating presence of Ben Campbell as he Engages, Entertains, and Elevates, leaving a lasting imprint on your event. With a wealth of experience in emceeing live events, Ben has established himself as the trusted choice for prestigious gatherings, national awards shows, and corporate functions. Prepare for an unforgettable experience that will create lasting memories.
Balancing Corporate Sensibilities and Engaging Entertainment: A Professional with a Genuine Understanding
When Ben takes the stage, expect an emcee, host, and presenter who effortlessly commands attention, entertains with his comedic expertise, and ensures a smooth and enjoyable experience for all attendees. Ben Campbell's understanding of the corporate world, refined through his decades in radio and working with industry giants like iHeartMedia, allows him to strike the perfect balance between corporate sensibilities and engaging entertainment.
Kindness, Professionalism, and Having Fun: A True Professional with a Passion for Making People Laugh
Ben Campbell is not only a talented entertainer but also a true professional with a genuine understanding of the business world. Known for his kindness, decency, and unwavering professionalism, Ben recognizes the importance of branding in the success of any company. He approaches his work with a highly directable mindset, leaving his ego at the door. Above all, Ben's passion for what he does shines through, as he finds immense joy in utilizing his gift for voices, comedy, and impressions to make people laugh. While entertainment is his chosen profession, Ben believes that it should always be a fun and enjoyable experience. Guided by his principles of doing his best, telling the truth, and having fun, Ben's clients appreciate his commitment to the job at hand without taking himself too seriously.
Astounding Celebrity Impressions: Adding an Extra Layer of Excitement and Entertainment
Witness the extraordinary talent of Ben Campbell, whose mastery extends far beyond hosting. Prepare to be astounded as he brings to life an impressive roster of celebrity impressions, adding an extra layer of excitement and entertainment to your event. With flawless emceeing skills, Ben seamlessly transitions from captivating the audience with his hosting prowess to stunning portrayals of beloved actors, prominent political figures, and singing celebrities.
From the spot-on portrayal of Donald Trump to the mesmerizing replication of Barack Obama, Ben Campbell's impressions are uncanny. Not only that, his versatility shines through his singing impressions, delivering the powerful vocals of Luciano Pavarotti and the velvety smoothness of Barry White. Experience an emcee who embodies the irresistible charm and star power of Hollywood icons like Matthew McConaughey and Morgan Freeman, leaving your guests in awe.
Versatile Hosting Expertise: Guiding Illustrious Events and Leaving a Lasting Impact
In addition to his mastery of celebrity impressions, Ben Campbell has proudly emceed a diverse range of events, including the illustrious Arizona Home Builders Association, where he flawlessly guided the evening with his charismatic energy and seamless transitions. From engaging banquets to high-profile galas, he has lent his hosting expertise to renowned organizations like the Folds of Honor foundation, leaving a lasting impact on both attendees and sponsors. His talents have also graced corporate events for notable brands such as BMX Bikes, The Bill & Melinda Gates Foundation, RCA Records, White Castle, and Celebrity Fight Night.
Beloved Staple of Phoenix Entertainment: Unrivaled Talent, Comedy, and Stage Presence
As a beloved Phoenix, Arizona staple, Ben Campbell has become synonymous with entertainment. With his illustrious, award-winning career cohosting the "Ben & Brian" morning show, "The Ben & Matt Show," and "The Tim, Ben, & Brooke Show," Ben has undeniably left an indelible mark on the airwaves. Additionally, Ben has graced the stage at over a dozen "KNIX Secret Show" concerts, captivating audiences with his unrivaled talent, comedic personality, and magnetic stage presence.
Venturing into the World of Country Music: A Dynamic Duo, Awards, and National Syndication
Building upon his radio success, Ben Campbell and his partner Brian ventured into the new country format, hosting morning shows in Lexington, Phoenix, and D.C. Their exceptional talent and captivating chemistry propelled them to new heights as they introduced audiences to the best of country music. Notably, their "Country Countdown" show, expertly managed by Dick Clark, the renowned master of countdown announcers, achieved national syndication, reaching listeners far and wide. In addition to their on-air accomplishments, Ben and Brian showcased their comedic brilliance by producing three comedy albums that captured the essence of their dynamic show, delivering laughter and entertainment to fans everywhere.
From Screens to Airwaves: Magnetic Presence and Comedic Artistry
With star power that transcends live events, Ben Campbell's exceptional talents have also adorned the screens of major network and streaming television and radio shows. From captivating audiences on "The Howard Stern Show" and South Africa's award-winning "ZA News" for "Puppet Nation" to entertaining viewers nationwide on shows like "Jimmy Kimmel Live," "Late Night with Seth Meyers," "The Late, Late Show with James Corden," and "The Tonight Show with Conan O'Brien," Ben's magnetic presence and comedic artistry have made him a sought-after talent in the entertainment industry.
Vocal Versatility and Creative Projects: Adding a Unique Blend to Live Event Production
With his extensive experience in voice acting and diverse creative projects, Ben Campbell brings a unique blend of flexibility and adaptability to the realm of live event production. Most recently, he showcased his exceptional voice talent by creating a bespoke voice for Virgin Active, serving as the athletic company's brand voice for its global television and digital advertising launch campaign.
Renowned for his spot-on voice impressions and ability to provide voice matching services for major studios, Ben Campbell's vocal versatility knows no bounds. His mastery extends beyond live events to the world of film, where he has been part of the Loop Group for the Academy Award-winning movie "Gravity" and lent his voice to acclaimed films like "Bombshell" and "The Secret Life of Walter Mitty." Notably, Ben's vocal prowess even led him to dub the voice of President Barack Obama for a TV news segment featured on the hit show "Mr. Robot".
With his extensive experience and ability to seamlessly transition between different roles, Ben Campbell ensures a dynamic and engaging live event experience that leaves a lasting impression on audiences. Whether he's capturing the essence of a character, setting the perfect tone, or delivering a captivating performance, Ben brings a unique and captivating element to his live corporate event emceeing, making each occasion an unforgettable experience.
Formative Experiences and Captivating Stage Presence: A Journey in Entertainment
Ben Campbell's journey in the world of entertainment began at a young age, fueled by his natural talent for mimicking voices. From imitating cartoon characters like Popeye, Wimpy, Scooby Doo, and Fat Albert to entertaining his family and friends, Ben's knack for impressions was evident from the start. His passion for comedy led him to perform stand-up at a Nashville comedy club, using a borrowed military ID since he was underage. Winning a color television set in a student talent show solidified his decision to pursue a career in entertainment, prompting him to change his major to broadcasting.
Early in his career, Ben worked as a camera operator for Bagwell Communications in Knoxville, Tennessee, where he gained experience on the nationally syndicated cable show "Club Dance." His memorable camera shots, particularly focusing on skirt twirlers, earned him fan mail from prison inmates. It was during this time that Ben's talent for impressions caught the attention of his colleagues, leading him to secure a graveyard shift as a DJ on Knoxville's KVIK. Teaming up with Brian Egan, Ben's radio personality career was launched.
A Sought-After Emcee for All Occasions: Professionalism, Comedy, and Connection

These formative experiences laid the foundation for Ben's remarkable journey in entertainment, showcasing his comedic prowess, versatility in impressions, and captivating stage presence. With a lifelong passion for making people laugh, Ben Campbell continues to leave a lasting impression on audiences as a celebrated live event emcee, comedian, and master celebrity impressionist.
Ben's remarkable ability to connect with audiences and deliver clean, fun, and corporate-friendly comedy has solidified his position as a sought-after emcee for a wide range of events. From business conferences to sales meetings and association gatherings, Ben Campbell's professionalism and comedic talent make him the perfect choice.
Collaborative, Directable, and Fun: A Delightful and Rewarding Experience
Working with Ben Campbell guarantees a seamless and enjoyable experience. He understands the importance of branding and takes great care to ensure that every aspect of his performance aligns with your vision. Highly directable and ego-free, Ben approaches his work with a sense of collaboration and professionalism, while infusing each moment with a touch of lighthearted fun.
The Magic of Voices and Seamless Transitions: Bringing Events to Life
Ben's passion for utilizing his gift of voices shines through in every project he takes on. His ability to seamlessly transition between various characters and impressions adds an extra layer of entertainment and excitement to his performances. With Ben Campbell, you can expect a delightful and rewarding collaboration that brings your event to life in the most memorable way possible.
Elevate Your Event with Ben Campbell: Unforgettable Moments Guaranteed
Get ready to elevate your next event to new heights with Ben Campbell, the trusted host, emcee, and comedian who guarantees a seamless, engaging, and fun-filled experience. From prestigious awards shows to corporate banquets and association gatherings, Ben brings his unmatched talent and versatility to every occasion. Prepare to be amazed as he takes you on a captivating journey through his vast repertoire of celebrity impressions, adding an extraordinary touch to your event that will leave a lasting impression on your audience.
Experience the Magic Firsthand: Engage, Entertains, and Elevates Your Audience
Experience the enchantment of Ben Campbell's live performance by booking him for your next event and discover the transformative power of his exceptional skills as a versatile live event emcee, comedian, and master celebrity impressionist. Engage, Entertain, and Elevate your audience as they embark on a captivating journey of laughter and astonishment, leaving them with cherished memories that will last a lifetime.
Unleash the Full Potential of Your Event: Book Ben Campbell as Your Guide
Whether it's a corporate function, association gathering, or private celebration, Ben's unique blend of talent, professionalism, and comedic charm will create unforgettable moments. Contact us today to unleash the full potential of your event with Ben Campbell as your guide.
Book Ben Now
"Unleash Unforgettable Moments: Book Ben Campbell"
Experience event excellence with Ben Campbell, a masterful emcee, comedian, and celebrity impressionist who seamlessly blends talent and professionalism for a captivating and engaging event.
Elevate your event to new heights by booking Ben Campbell, the versatile live event emcee, comedian, and master celebrity impressionist. With over 30 years of experience, Ben seamlessly combines exceptional talent, professionalism, and comedic genius to create unforgettable moments. From captivating presence and astounding celebrity impressions to vocal versatility and seamless transitions, Ben's dynamic skills ensure a seamless, engaging, and fun-filled experience for your audience. Contact us now to unleash the full potential of your event with Ben Campbell as your guide, leaving a lasting impression on your audience.
Ben's Live Event, Virtual Event, Event Production, and Voice Artist Services Are Perfect For The Following Live Events & Virtual Events.
Bar Mitzvahs & Bat Mitzvahs
Bar Mitzvahs & Bat Mitzvahs
Are You Ready To Hire Ben Campbell For Live Event Solutions, Virtual Event Solutions, Event Production Services, or Voice Artist Services For Your Live Event, Virtual Event, Or Project?
Are You Ready To Hire Ben Campbell For Live Event Solutions, Virtual Event Solutions, Event Production Services, or Voice Artist Services For Your Live Event, Virtual Event, Or Project?
Talent Manager
William Gold Entertainment
Manager: Dustin Gold
Let's Talk